When:
November 17, 2020 @ 10:00 am – 4:00 pm
2020-11-17T10:00:00-05:00
2020-11-17T16:00:00-05:00
Where:
Zoom
your own location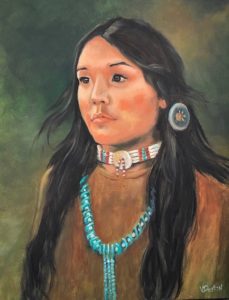 Come paint with me – in the comfort of your own space!
This will be a Zoom classroom event. We will be painting a beginner portrait class called Indian Maiden. We will create a portrait color palette in the Mary Carole technique that can be used for any portrait. I will teach it step by step as I do in my live classes. Zoom classes allow you to paint along with me, ask questions and get feedback.
I've also set up a private FaceBook Group just for my Zoom students where you can share your paintings, get feedback from me and your fellow students. You will given an invite to that exclusive group upon registration to this class.
Here are the details:
You will receive a link to the Zoom Class and all the information you need to join the class
You can join on your computer or your pad device (phones work, but the screen is kind of small). – set your paints and canvas near wherever you intend to watch the class so you can paint along.
You will need to have a 12″ x 16″ canvas
You will receive the list of oil paint colors and the brushes we will be using (Have your paints ready to go.)
You supply your own canvas, prepared in advance – you will receive a pattern you trace onto your canvas.
During the class I will paint step by step and pause for you to paint.
You can ask questions during the meeting or ask me to explain further, or demonstrate again.
You will be invited to join a private Facebook Group to share your paintings and ask advice about how to improve or just share.
You will also get a link to a recording of the class so that you can view it later at your leisure. So if you are a slower painter you can go back and pick up all the details later.