Class Schedule and Registration
Gini Deaton teaches oil painting in the wet-on-wet style made famous by PBS TV artists. This method of wet into wet, or alla prima painting has been around for centuries and is used by artists worldwide. As a certified instructor, she says, "Anyone can learn to paint with this method of step by step demonstration and one on one instruction". Take home a finished painting at the end of the class! Even first time painters are surprised at how well they do.
Click on a class to see the details and fill out the form to register and pay (no PayPal account is required, you can pay with a credit/debit card).
Cancellation policy: Stuff happens. So, if you register for a class and can't attend please give me at least a days notice so I don't prepare your space in the class and can offer the class to someone on my waiting list. You can transfer your payment to another class at your convenience. If you call my cell (937-470-8842) with at least 3 hours notice you will be credited for a future class at your convenience. I don't check email once I start setting  up a class, so you must call if you are canceling on the day of the class. Sorry, no refund for classes unattended or canceled without at least 3  hours notice by phone. 
Aug
8
Sat
Zoom Class – Over the Fence

@ Zoom
Aug 8 @ 10:00 am – 4:30 pm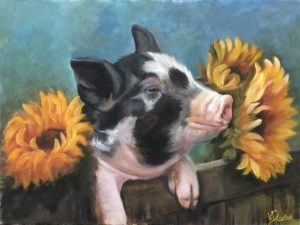 Come paint with me – in the comfort of your own space!
This will be a Zoom classroom event. We will be painting my design called Over the Fence. Zoom classes allow you to paint along with me, ask questions and get some feedback. I've also set up a private FaceBook Group just for my Zoom students where you can share your paintings, get feedback from me and your fellow students. You will given an invite to that exclusive group upon registration to this class.
Here are the details:
You will receive a link to the Zoom Class and all the information you need to join the class
You can join on your computer, your phone or your pad device. – set your paints and canvas near wherever you intend to watch the class so you can paint along.
You will receive a link to a downloadable and printable pattern for a 12″ x 12″ canvas that you will prepare ahead of the class – so register early so you have time to gather all your supplies and prepare you canvas.
You will receive the list of oil paint colors we will be using (Have your paints ready to go.)
You will receive a list of the brushes we will be using
You supply your own canvas, prepared in advance.
During the class I will paint step by step and pause for you to paint.
We will take a 30 minute break so you can grab lunch
You can ask questions during the meeting or ask me to explain further, or demonstrate again.
You will be invited to join a private Facebook Group to share your paintings and ask advice about how to improve or just share.
You will also get a link to a recording of the class so that you can view it later at your leisure. So if you are a slower painter you can go back and pick up all the details later.